SET Opportunity Day Q&A
SET Opportunity Day 2Q2023
1. How is the outlook performance for the second half of this year? Will it be better and from what factor?
We expect that the economy and tourism recovery will be a positive factor for OR in the second half of the year.
2. Currently, what is the proportion of the revenue from Mobility and Lifestyle? How much do you expect for the growth this year?
More than 90% of revenue comes from Mobility, but in terms of EBITDA, Lifestyle accounts for 25%.
3. Are there any M&A Deals under negotiation and what kind of business are they? How many deals are expected to be achieved? How much are they worth?
There are many deals in OR's pipeline both small and large size. We continuously focus on F&B, Health & Wellness, and Beauty businesses. We consider and look for appropriate businesses. Also, we will for clarity before being able to disclose.
4. What's the benefits from XplORe application?
OR has strong physical platforms both PTT Station and Café Amazon.
xplORe is an online platform that aim to facilitate customers' spending, collecting, and redeeming points from OR's brands and partners. xplORe will be linked from Offline to Online. In addition, various applications that OR already has, such as Café Amazon Blue Card and Blue Connect, are also combined into one single source of xplORe, which can match all lifestyles and convenient daily life.
5. How much the loss from investing in Flash?
OR recognizes the fair value of Flash according to the accounting standards, mark-to-market method, which shows in the other comprehensive income under the equity. After OR invested, Flash raised more funds in the next series, which OR did not invest more.
6. What is the expansion plan for PTT Station, EV Station PluZ, and Caf
é

Amazon? How many outlets we can expect by the end of this year?

Expansion plans for 2023 as follows:
100 New PTT Stations
Currently, EV Station PluZ covers 77 provinces nationwide. Expecting that there will be 800 locations in total by the end of 2023
400 New Caf

é

Amazon Outlets. We may not mainly focus on branch expansion. Instead, we will focus on maintaining margin levels and increasing the ticket size in order to boost up the EBITDA of the Lifestyle business.
7. Is there any plan to push forward your subsidiaries to be listed in the stock market?
As for the companies that OR invests in, there are 1-2 companies that have potential and plan to be listed in the stock market. Pluk Phak Praw Rak Mae (Ohkajhu) is one of them and is in the process of preparing for an IPO plan. Also, there are other potential companies that we consider for clarify and performance.
8. Could you share the progress of the aircraft refueling business in Cambodia?
At present, the airport is under construction in Phnom Penh, Cambodia. It is expected to open for service in March 2025.
SET Opportunity Day 1Q2023
1. What are the support and challenge factors on performance 2H23? And What are 2H23 outlooks for each business segment?
We estimate our 2023 performance will be better than the previous year. However, we still closely monitor the volatility of the global oil market, which directly impacts our performance. Additionally, we keep an eye on recessions in US and EU and Russia-Ukraine situation. There are many vital positive factors, such as reopening the country, resulting in consumption resumed and more domestic and international traveling leading to higher oil volume growth, particularly in aviation fuel. We estimate overall 2H23 performance will grow continuously for all business segments.
2. The wage rate is likely to increase. Will OR be affected by this factor, and what are the strategies to deal with this issue?
Since we do not employ based on minimum wage rate and our business model is comprised of 20% COCO (Company owned Company Operated), meaning that we are responsible for the expenses only for service stations and the stores in the COCO model, we estimate the impact of rising wages may not be severe and will be in a manageable level.
3. What is the average marketing margin in 2Q23 compared to 1Q23?
Normally, the marketing margin will be at the level of 0.70 – 1.20 baht per liter. We aim to maintain the marketing margin at 1.00 baht per liter in 2Q23 as global oil prices decline resulting in less pressure on our oil prices.
4. Will oil sales volume continue to grow in the next quarter? Are there any supportive factors?
Typically, oil sales volume grows in line with the GDP. NESDC forecasted Thailand's GDP growth at 2.7%-3.7% this year. We expect the total sales volume for this year grow better than GDP, mainly from aviation fuel due to increasing domestic and international traveling. Sales volume in 2Q23 will be close to those in 1Q23.
5. What is the trend of stock gain/loss in 2Q23?
In a situation where the oil prices do not fluctuate, it will be easier for us to manage stock gain/loss like in 1Q23, in which our stock gain/loss was not at a high level. We expect to keep the same stock gain/loss level in 2Q23. Although, we need to hold stock according to the legal reserve, which means that having stock gain/loss is a normal practice in this business.
6. What is the PTT Station expansion plan for the rest of this year?
This year, we plan to expand PTT stations to about 100 more locations, which we already achieved 7 locations in the first quarter. However, we do not only focus on the number of service stations but will pay attention to generating more profits in each station for optimize benefit.
7. How is the progress of the investment in Flash Express and Lineman?
There is no additional investment in Flash Express, resulting in a decrease shareholder portion. We will monitor the performance closely. For Lineman, our objective of this investment is financial return. Hopefully, we may receive the return from IPO in the future.
8. There are rumors that OR will acquire PTG. Is it true?
This is outside our plan. Our current market share of oil sales volume is appropriate, so there is no need for any acquisition.
SET Opportunity Day FY2022
1. In the previous year, OR had used high working capital. How does OR plan to manage this issue in 2023?
OR's receivables were high in 2022 mainly from the oil fund receivable, this situation impacted on our liquidity, thus we were closely monitor to avoid liquidity risk and procured line of credit from commercial banks for serving additional liquidity.
Tris rating declared OR Credit rating at AA+ and with a credit rating outlook of "stable" on Feb 14th,2023. This will benefit OR to have capability to seek alternative fund raising with effective cost of fund in the future.
2. How will OR manage high amount of account receivable and oil fund receivable?
At the end of 2021, the amount of oil fund receivable was at THB7,993 million. It continuously increased until it reached the highest point, around THB38,000 million, in September 2022. However, during November 2022 to February 2023, we received repayment from the oil fund almost THB16,000 million, resulting in a decrease in our receivable. As of February 2023, the outstanding of oil fund receivable has decreased to around THB21,000 million.
We expect that oil fund will gradually repay us throughout the year 2023 and the outstanding of oil fund receivable will return to normal level within 2024.
3. Will OR need high working capital for inventory in 2023?
Apart of working capital will be utilized for inventory which are vary in line with global oil price trend. Inventory at end of 2022 went up from uptrend global oil price. However, we expect oil price 2023 may lower than previous year leading to less working capital.
4. Currently, Does OR need additional interest bearing debt?
Currently, no additional debt required.
5. What is OR's CAPEX for 2023?
Our Capex for 2023 is approximately THB31.2 Bn.
6. Oil retailers in Thailand try to balance the proportion of account receivables and account payables to increase their liquidity. What is OR's view for this issue in 2023?
OR has managed our account receivable and account payables properly and effectively to make sure that we have an appropriate level of liquidity.
7. OR performance has come into slowdown from the view of shareholder and investor. What is your perspective regarding this point?
Generally, there are various views on market expectation. However, our management believed that our 4Q22 performance might be the bottom. We believed that we will able to achieve our goal in 2023 as planned.
8. What is the trend of 1Q23 oil sales volume? How the 1Q23 performance will be? What is the growth of 2023 and from which the key factor?
Normally oil volume sold go along with GDP growth (NESDC 's outlook on Thailand GDP growth in 2023 is projected to be in the range 2.7-3.7%). Our oil volume growth in this year may rise above the GDP growth mainly from aviation fuel as tourism sector recovers from an increased travel and the country reopening. We believe our 1Q23 performance will be improved from the increasing of sales volume. Also, marketing margin is expected to be back to the normal level at 0.70-1.20 Baht/liter.
9. According to the declining of global oil price due to the global banks' crisis, are there any impacts on OR's stock gain/loss or does OR need to record any provision?
OR manages our inventory based on demand and supply . If the global oil prices are highly volatile, we can get impacted both positive and negative side. Stock gain/loss are presented under cost of goods sold item. Please keep in mind, we calculate it separately for analysis purpose. Stock gain/loss is the normal business operation of oil business that requires minimum storing of inventory as legal requirement.
While provision of net realizable value considers as accounting treatment, we would record when it meet accounting criteria.
10. Please provide outlet expansion plan for ptt station and EV charging station in 2023.
204 ptt station (Thailand 122 locations/oversea 82 locations )
500 locations of EV station PluZ in Thailand
11. What is your prospective regarding EV adoption in Thailand? Does OR need to revise your business plan for EV?
EV adoption in Thailand is quite clearer due to the supporting government policy that promote EV ecosystem. One of the important policy is called 30/30, setting a goal by 2030, the number of domestic EV car production will be around 30% of the total new cars. Moreover, the various incentives that the government supports for EV car buyer accelerate the EV adoption to grow aggressively as we can see the number of registered PHEV + BEV car has increased rapidly. We expect in the next 10 years, vehicles in Thailand will be both ICE and EV cars. Thus, OR need to fulfill readiness for future energy transition through seamless mobility
With our strength in term of network across the country, we aim to become a leader in the EV charging business. Therefore, we are accelerating the installation of EV Station PluZ both inside ptt stations and other commercial areas through the cooperation with partners. We plan to expand another 500 new locations in 2023, and develop EV stations PluZ application to meet the needs of consumers in the future.
12. There were consolidation deals under oil retail industry in the recent year. Is there any impact to OR?
We believed this will be good for consumers to get better products and services. All players must develop products and services to attract customers.
As we are the market leader in the oil and retail markets in Thailand, we still have competitive advantages over other players in many aspects such as our network across the country. Our oil and non-oil offering that has three magnets inside ptt Station are 1. Good quality oil, both premium grade and regular 2. Caf

é

Amazon 3. C store 7-11, including clean energy like EV Station PluZ.
However, the stronger of other players in the market makes us to keep developing our business in order to maintain our competitive advantage both network expansion strategies, focusing on locations that can grow and increasing profit per branch, accelerating non-oil retail to become stronger to meet the needs of customers and attract more customers to our ptt station, increasing profit to the overall business. Moreover, we are accelerating the expansion of EVs as part of maintaining the momentum of the ptt station brand.
13. Is there any investment focusing on green energy?
Green is one of key strategies under our SDG concept which is a big focus of OR business. Apart from EV charging station, we have plan to expand into other related green business such as solar roof top business.
14. What is your 2023 outlet expansion plan for Caf
é

Amazon and Texas Chicken?

We plan to expand 400 new Café Amazon outlets and 12 new Texas Chicken outlets in 2023.
15. Due to the decline in Caf
é

amazon cups sold in 4Q22, what is its outlook for 1Q23?

There are several factors that impact on Café Amazon cups sold e.g. seasonal effect, economic recovery. Although 4Q22 cup sold dropped a bit, we believed that our Café Amazon business will continue to grow in the long term.
16. Has OR plan to operate retail business outside ptt station?
Currently, OR has operated business outside ptt station especially food & beverage stores such as stand-alone Café Amazon outlets in the proportion of 44.6% of the total outlets. We have long term plan to gradually turn our lifestyle business to community space.
17. What kind of business that is attractive to OR? Is there any much more deal in your pipeline?
We allocated some parts of 2023 CAPEX plan for M&A and joint venture. Our intention is still focusing on business related to health and wellness as well as tourisms. Many deals are under negotiation stage. Official release would be made when the deal has been done.
18. How was the performance of Ohkaju for 2022?
Ohkaju performance in 2022 has gradually improved after COVID-19 endemic. Its performance will grow continuously following positive factors such as softer inflation and economic recovery.
SET Opportunity Day 3Q2022
1. What is the approach to hedge inventory in the next quarter? (since last year there was a large amount of cash used in working capital)
OR has the inventory days of 10-14 days, including legal reserves. OR manages inventory to suit the amount of sales. For risk management, OR has a hedging policy of no more than 50%, which will depend on the market condition at that time as well. In Q3, OR had higher stocks than usual due to 2 factors: 1. Rising oil prices; 2. In Q4, there are refineries that have planned shut downs, resulting in reserving higher stock in 3Q/22 than usual in order to support the sales volume in 4Q/22.
2. Are there any big M&A deals that will significantly affect performance? The proceed from IPO is quite high; how is this proceed managed?
There are various sizes of investment negotiations in the pipeline, and each deal will be completed depending on a variety of factors, such as the complexity of the deal, parties to contracts, conditions, etc. Therefore, by the end of 2022, it is expected that there will be no more deals done than what has already been announced through SET.
As for the proceeds received from the IPO, the proceeds have been gradually used according to the objectives notified to the SEC, which were disclosed in the prospectus upon the sale of securities.
3. In the 3rd quarter, there was a large increase in administrative expenses due to what reason?
Consisting of one-time and recurring expenses, because during the COVID-19 pandemic, OR did not bring out big marketing campaigns, so in 3Q/22, OR started doing promotions leading to expenses for both the Mobility and Lifestyle businesses. The one-time expenses include, OR's event called "Inclusive Growth Days", which showcased OR's new vision, in which prospective SMEs that would like to work with OR were invited, and this event was opened to the public as well. This was to create awareness for OR's businesses. Another event was the Motor GP event.
4. How is the trend of the results of the 4th quarter compared to the 3rd quarter and the same period last year? And how much revenue is expected for the year 2022?
Considering the macroeconomic indicators such as Thailand's GDP, the growth of the tourism sector, etc., including the country's full reopening since October 2022 and the fact that the fourth quarter is the peak period for traveling. It is expected that the sales volume of both Mobility and Lifestyle businesses, including overseas operations will be better than the third quarter, including positive impact from price adjustments for every menu at Cafe Amazon by 5 baht/cup, which will help the Lifestyle business maintain EBITDA margin level after encountering higher costs from inflation in the previous quarter.
5. How is the revenue target in 2023? How much is the investment budget in 2023 and what will it be used for?
Normally, OR's revenue will grow according to the economic growth in Thailand and changing oil price level in the world market. By 2023, PTT Group expects oil price to be 89 USD/BBL.
In 2023, the investment budget is set at THB 31,196.70 million to be mainly used for expanding the networks for Mobility, Lifestyle and Global businesses, including related ventures.
6. Opening a laundromat in a service station: What are the advantages of investing? And invested by whom?
The 40% joint venture investment with Knex in the automatic washing and drying business under the brand Otteri meets the lifestyle needs of the new generation who do not spend time doing housework by themselves. Opening an Otteri outlet in a PTT Station will help increase the number of service users in service stations. According to statistics, on average, service users in service stations spend about 30 minutes per visit, where they will spend the time shopping at other retail outlets in the service station.
7. What caused sales volume decrease in Laos?
In 3Q/22, Laos saw a decrease in sales volume for all products from the impact of oil shortages due to import restrictions as a result of shortage of foreign currency.
8. Do you have plans to have hotels in PTT Stations?
Since OR has little expertise in the hotel business, therefore, it will take some time to study and analyze the feasibility and will require OR to consider the appropriate time to invest.
SET Opportunity Day 2Q2022
1. What is the outlook for earnings in the second half of 2022?
OR expects the overall operating results to continue to grow, when considering various factors such as GDP growth, the policy of opening the whole country and neighboring countries in the region, the relaxation of measure encouraging foreign tourists' entry, etc., all of which encourages the volume of oil sales in both Mobility and Global businesses to continue to increase. The cost increase in main raw materials such as coffee beans was mostly realized in the second quarter, so in the second half of the year, although there may still be an impact, the effect should be minimal. The gradual recovery of the economy will help to increase economic activities, which will have a positive effect on the Lifestyle business revenue, both in the F&B and Other Non-Oil businesses. It can be seen from the second quarter that the number of cups sold at Cafe Amazon hit a new high and is expected to continue to grow at a high level.
As for the global business, it will continue to grow as well. Especially in the Philippines and Cambodia according to the factors mentioned above, except Lao PDR, that may be impacted by problems in their domestic economy.
2. How many other M&A deals are there and what type of business are they? How many deals will be concluded by 2022?
There are deals that are still under the process of negotiation. If these deals are successful, a few more deals will be revealed later this year. The businesses that OR is interested in, in addition to F&B, includes businesses that provide opportunities that respond to changing consumer behavior, including creating opportunities in growing together both domestically and abroad.
3. What is the trend of crude oil prices in the second half of the year?
It is expected that oil prices in the world market will continue to be quite volatile, but the overall average price should be lower than in the first half of the year, due to concerns about the potential economic slowdown and from the inflation situation in many countries.
4. How is the expansion of PTT Station and Cafe Amazon in 2H/22?
OR adjusted our network expansion plans in 2022 as follows:
PTT Station 117 stations, originally 129 stations
Cafe Amazon 415 outlets, originally 389 outlets
5. How is the marketing margin of Q3 compared to Q2?
Market margins in the third quarter of 2022 are expected to weaken compared to the previous quarter, where the marketing margin is higher than normal. The marketing margin in the 3Q/22 is expected to remain at plus/minus 1 baht.
6. If oil prices continue, how will this higher cost effect marketing margins? And will the cap on diesel at service stations affect marketing margins negatively?
Rising oil prices have pressured oil retailers to adjust retail prices at service stations to be in line with rising energy prices in the market, resulting in low marketing margins. In addition, consumers tend to reduce travel during this period, however. Managing each oil retailer's existing stocks during an uptrend in oil prices could create a positive effect on overall market margins. The oil market in Thailand is a free market, so oil retailers that freeze their diesel price during an uptrend in oil prices might miss their target marketing margins. However, this may lead to higher sales volume compared to other players who raise prices.
SET Opportunity Day 1Q2022
1. Taste of drinks at Cafe Amazon seems to vary from branch to branch. Does OR conduct tests or has an audit system in place? Also, competitors started employing automation to achieve consistency of taste, thus a concern that the popularity of OR's coffee will start to decline.
OR appreciates all comments and suggestions from investors.
OR places great importance to product quality. In the quality control process OR requires the franchisees of Cafe Amazon to undergo training and pass a store manager training course before operating the store. In addition, OR will send a team to set up and provide on-the-job training before the store opens to build confidence in the quality of the product.
OR will have an Audit team to check the store's standards on a monthly basis and also have a Mystery Audit team to check in case the store received low scores from the assessment, complaints or get poor service scores, including Mystery Shopper who is outsourced to assess the stores from a perspective of the customer a few times per year.
Currently, OR is exploring the use of robots to help make coffee to also try to develop and continuously improve the quality of our products and services.
2. How does the cap on diesel retail price and reduction of B100 in the mix affect OR?
OR has helped reduce the burden on consumers by slowing down the price adjustments at oil retail service station. Since the end of 2021, OR's selling price is lower than other brands for nearly the entire of 1Q/22. As a result, OR has increased diesel sales volume.
3. How much growth in performance will we see in 2Q/22 compared to 1Q/22 and 2Q21? What are the supporting factors? What's the outlook for the rest do 2022?
From the numbers in April, volume for gasoline and diesel continues to grow, and another contributing factor to volume growth is Jet fuel as the country reopens for tourist, hence benefitting from more flights (compared to last year's figure where we lost almost 70% of Jet fuel's volume)
4. Competitor's new service stations appear to dedicate more areas to support trucks. According to OR, what are the advantages & disadvantages?
Currently, OR has 10 service stations in the form of PTT station Truck Park. The highlight of this type of service station is the wide area because it has to accommodate quick diesel refueling service for large vehicles. This main advantage helps increase diesel sales volume, contributing to an increase of the overall sales volume. Nonetheless, the Truck Park must also be designed to have special facilities compared to the standard service station. This includes having less non-oil offerings, where margin is often high, compared to the usual service station, due to the fact that the consumer behavior for this type of service station focuses on buying fuel only.
5. How is the budget allocated for the rest of 2022? For what purposes, and short-term investments seen in 1Q/22 was from which item in the investment assets?
For the THB 54,000 million from the IPO, OR has a 5-year investment plan that has been detailed in the filling document, which will be gradually invest according to the plan stated in the filing.
As for the money that has not been invested according to the plan, we've use that to invest in short-term investments, such as various funds, and recorded as short-term investments of not more than 1 year or not more than 3 years
For investments in new businesses, that will be from money that OR receives from operations.
6. Tesla, the US automaker began to expand in Thailand. Will it affect the use of oil, oil and OR's business?
In situations where energy prices are high, the electric vehicle (EV) is a car that uses clean energy, is an alternative for consumers. It is projected that Thailand in the next 5-10 years, the number of EVs will increase exponentially, and OR has already planned to support in this regard with plans to expand EV charging stations to cover all potential areas, both inside and outside of PTT stations. The expansion plan in 2022 will include 350 additional EV Stations PluZ to meet consumer demand.
FIT Auto, OR's current ICE vehicle maintenance facility, is planning to expand into EV repair services, which is currently in collaboration with EV carmakers in the study phase.
Therefore, the arrival of Tesla in Thailand is a business opportunity that OR may potentially have business cooperation within the future.
7. What is the outlook on oil prices for the rest of 2022?
According to the forecast from the PTT Group, the price of crude oil is likely to be around 100 USD/Barrel.
8. Currently, there is an acquisition deal or investments in the pipeline? And in what businesses?
There are still quite a lot of deals, but everything is still confidential. Most deal are in the Lifestyle business because we want to meet the needs of consumers that are changing in the future. There will be both F&B and others as well. In the past, the process was slowed down due to the COVID-19 situation, which made contacting and coordinating quite difficult. This year the process is expected to be faster.
9. How is marketing margin for this year compared to last year's?
Usually, the marketing margin will trend in a narrow range. The government's recent policy to reduce the burden on the public and business sectors using the oil fund mechanism and reduction of excise taxes during high energy prices helps reduces the burden on operators such as OR as well, meanwhile, OR also has to closely manage the cost of purchasing from the refinery. Therefore, OR is expected to be able to maintain the level of marketing margin that is close to the first quarter
10. Expansion plan for service stations, non-oil business this year? How much is the investment budget? What are your plans for overseas expansion?
Still in accordance with the original plan. In 2022, there is a plan to expand 195 PTT Stations (Thai 129, International 73) and open 518 Cafe Amazon stores (Thai 389, International 129). In the past, the network expansion may open lower than other quarters, which is normal for business, but during the 2nd-4th quarter, it will expand more. It is expected that it is still in accordance with the plan that has been laid above.
11. What is the growth target for 2022? How much is revenue expected to grow, and how much is the expected revenue growth for the next 3 years?
Average growth for OR is in line with gross domestic product (GDP) growth, which is projected to grow in line with Thailand's GDP in 2022 at around 2.5%-3.5%.
12. How much is the investment in venture capital or startups together today? and how much investment is set aside for this year?
Finnoventure Private Equity Trust I at THB 150 million
SeaX Fund II L.P. at THB 50 million
Investment through ORZON at THB 221 million
In 2022, an investment budget for innovation is set at approximately THB 3,700 million.
13. Average space rental rate in PTT Stations?
OR seeks more retail content that is not energy related. The rent is slightly different depending on the area, both in the city and outside the city. Moreover, OR wants to grow sustainably together with the SMEs, so the rent will be comparable to the market rate.
14. Which item is the increase in trade accounts receivable? Is there a chance of bad debt?
Increased other receivables from a refund from the oil fund, and the increase in trade accounts receivable increased from rising oil prices.
Bad debt is a very small proportion because OR has a clear credit process.
SET Opportunity Day FY2021
1. How much will the revenue target for 2022 grow from 2021 and what is the direction of the performance during Q1/22?
Most of OR's revenue (90%) comes from the Mobility business, which varies with the level of oil prices and oil sales volume. From the preliminary assessment, it is expected that the average oil price level in 2022 will be higher than that of 2021, and in terms of sales volumes, it is expected to be growing in line with the country's GDP. At present, Q1/22, the picture is not clear. We'll have to wait for some more time to collect information.
2.
How much is the investment budget in 2022 and how is it used?
Investment budget for the year 2022 - 2026, approximately 93,500 million baht (only in 2022, about 26,900 million baht), with investment plans divided by business as follows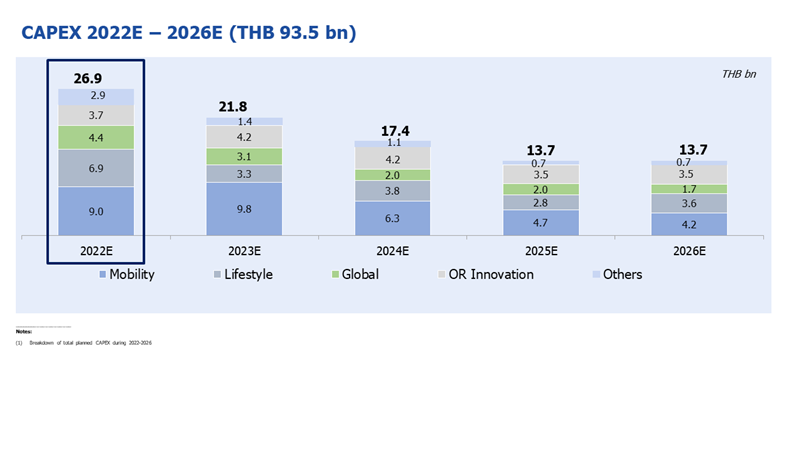 Mobility: Mainly for expanding PTT stations and focusing on investment in clean energy, including EV Charging station both inside and outside PTT stations, including investment in solar rooftop.
Lifestyle : Most for expanding Cafe Amazon and Other F&B brands, and for other investment opportunities.
Global : Mainly for expanding of PTT stations and Cafe Amazon overseas, including searching for business opportunities through partners abroad for joint investments.
OR Innovation : Investing through venture capital and ORZON Ventures to seek business opportunities to extend the existing business, including the search for new S-Curve.
Other: Investments in various infrastructures such as IT systems
3.
How can rising oil prices have a positive or negative impact on OR?
OR operates in mobility business, which has a cost-plus business model and has a relatively stable gross profit in the range of 0.70 - 1.30 baht per liter. Thus, this may affect OR but not much. OR also has a risk management policy in regard to oil prices to reduce the impact as well.
4. Expansion plan for EV charging stations in 2022?
In 2022, OR plans to expand 350 additional EV charging stations, divided into 200 inside service stations and 150 outside service stations.
5.
What is the impact of government control measures to OR?
OR helped alleviate the burden of the public sector from the pressure from high oil prices in the world market. As a result, there has been a delay in the price adjustment of diesel at service stations in the past, resulting in a slight weakening of OR's marketing margin.
6.
Has the price of coffee beans increased or not? And how will it affect the cost of Cafe Amazon business? How much coffee bean does the company have to support the expansion of Cafe Amazon outlets?
As OR coffee beans are sourced 100% locally, they are not based on global market price, and it is done through a bidding process in which a pre-contract is signed. Therefore, the rise in coffee bean prices has increased costs to some extent, but at present, OR has been able to maintain its EBITDA margin at a reasonable level. However, the situation was closely monitored.
As for the consumption of coffee beans of Cafe Amazon is expected to be in line with the amount of domestic production, and at present, OR is looking for ways to increase the amount of coffee beans, for example, with the Royal Project Foundation by providing local farmers with knowledge and support on cultivation of quality coffee beans in order to build strong communities, including expanding the area for coffee beans cultivation and adding green space for sustainable growth.
7.
In the presentation, the 2022 oil price forecast averages 78.6 USD/BBL. From the situation of the Ukraine-Russia war, has the company re-evaluated the world oil price and how it affects the business direction?
Oil prices are expected to rise. The projected oil price in 2022 is approximately 107 USD/BBL. OR's business is a cost-plus business model, so OR will not be too much affected by the oil price increase. However, the government's request for cooperation in supporting the retail fuel prices at the service stations will result in a slight weakening of the marketing margin. In addition, the rising oil prices will also affect the Lifestyle business as it affects the inflation rate and the purchasing power of consumers may decrease.
8.
What is the average sales per branch for Cafe Amazon?
Average sale per day per store in 2021 was at 15,158 baht, an increase of 9.8% from 2020 at 13,803 baht.
9.
How does the company plan to manage the marketing margin during the rising oil prices?
OR operates a Mobility business using the cost-plus business model. Therefore, OR's marketing margin is not much affected by an increase or decrease in oil prices. On average, OR's marketing margin will be approximately 1 baht per liter or slightly above or below this number.
SET Opportunity Day 3Q2021
1.
OR's position and direction in the EV industry
OR is aware of the rapid changes in today's world, whether it is technology and the importance of clean energy. OR, a flagship company in the PTT Group, will play a role as the Marketing Arm in the EV ecosystem for the PTT Group. OR is well prepared to support the business transition from Oil to EV, as has studied EV business trends as long with government policies. At present, OR has installed EV chargers in 31 stations at the end of 3Q/21 and will expand to 97 stations at the end of 2021 and 300 stations by 2022, respectively.OR also has an EV application to meet the needs of consumers from searching for EV Charging Stations in areas close to the customer's location, booking service time, checking the charging status, offering various payments, etc.
In addition to EV charging at PTT stations, OR also installs EV charging posts outside service stations. In the future, our FIT Auto will also provide EV maintenance services as well.
In this regard, OR is ready to meet the needs of all types of motorists—both of those who want to use oil and those who want to use other types of energy in the future. OR will continue to maintain its leadership in the oil ecosystem and expand our business to the energy solution ecosystem to meet all the needs of motorists.
2.
Does OR have plans to use cryptocurrency?
We currently are conducting feasibility study on the matter. Nonetheless, this is subject to strict compliance with the rules and regulations of the government and related agencies.
3.
Growth direction of 4Q/21 compared to 3Q/21
Several positive factors that may contribute to the outlook for 4Q/21 include the reopening of international borders, improvement of the COVID-19 situation in Thailand, progress in the COVID-19 vaccination, end-of-year holidays season where people would spend and travel during the long holidays, and increasing foreign tourists, which will contribute to an increase for both oil and non-oil sales. However, there is still downward pressure from increasing global oil prices that may softens oil retail gross profit/liter.
Furthermore, Thailand and the world still face the uncertainty of the new Omicron variant, but OR has a business response plan regarding such uncertainty through our Business Continuity Management (BCM) plan.
4.
Trend of oil retail gross profit/liter in 4Q/21 compared to 3Q/21 and what should be the appropriate range for the business?
Gross profit per liter in 4Q/21 is likely to weaken compared to 3Q/21
The appropriate GP/liter range for OR is around 0.80-1.30 baht per liter.
5.
What is the direction of crude oil prices? Projected oil sales volume and revenue target for 2022?
For crude oil price trends in 2022, PTT Group projects the average Dubai crude oil price in 2022 to be around 65 USD/BBL
In this regard, PTT Group regularly reviews estimates to ensure they are in line with the current situation
For oil sales volume in 2022, it is expected to recover due to the government's policy to open the country (Thailand) starting 1st November compared to Pre-COVID-19 level, except for aviation fuel, which is expected to increase by 50% next year compared to the pre-COVID-19 level.
6.
Details of the investment budget and M&A plan for 2022?
OR constantly looks for investment opportunities and synergies with startups and SMEs to extend our strengths, including PTT station network across the country, as well as non-oil businesses such as Cafe Amazon and other F&B brands with strong potential across the country. We are continually making joint investments to diversify our F&B portfolio. In the future, OR will expand our business into the Health & Wellness and Tourism sectors, which can be linked to core businesses and current customers such as organic food, fitness, etc. OR wants to go beyond the oil business while growing together with partners, society, community and the environment
As for the 2022 investment plan, it is in the process of receiving the board's approval this month (Dec'21)
7.
Size and details of deal(s) that ORZON will invest in.
The details cannot be disclosed at this time. The deal must be closed completely first. ORZON has a policy to invest in startups during the early stage by focusing on new businesses under the Mobility & Lifestyle framework such as Smart Retail, Mobility, Energy, F&B, Travel, Health and Wellness and Information Technology to expand OR's business
8.
International expansion plan for existing international countries and new countries?
In 2021, the international business segment has the plan to expand 43 service stations and 46 Cafe Amazon outlets. There are also 5 branches of CVS stores under the Jiffy brand.
OR currently has a presence in 10 countries. When expanding into new countries OR will leverage its strong brand, expertise and well-accepted reputation, and adjust accordance with the needs of the market in each country, including seeking suitable opportunities for acquisitions (M&A) and/or joint ventures (JVs) in foreign countries. Countries that we are interested in and are in the process of studying business opportunities, for example, Indonesia.
9.
OR's source of fund & any plan to raise fund in 2022?
OR received funding from our IPO, and we plan to use the money to expand the oil and non-oil outlets both domestically and internationally. There is also cash flow received from operations, which will be used for M&A's and Joint Venture.
At the present, OR has no plans to raise additional funds.
SET Opportunity Day 2Q2021
1.
Has OR been affected by the weakening of Thai baht?
Most of OR's business transactions occur in the country. Consequently, OR's transactions using foreign currency are rare, below 10%, and there are no foreign currency loans. Therefore, the effect of FX on OR is relatively small. Moreover, OR offers foreign exchange risk service, closing more than 90% of the risk of trading transactions.
2.
How is the performance of oil sales volume in the third quarter? What would be the projection on OR's performance for the second half of the year, including how much growth is forecasted for this year's performance?
OR's performance was primarily in line with the country's growth rate. In the third quarter, economic activity was curtailed, lockdown was concentrated in some areas. Oil sales volume declined in the range of approximately 10% compared to the previous quarter.
As for the projection on OR's performance in the second half of the year, if measures are relaxed and the city is opened for tourists, then business-related activites are likely to recover. However, there are still many challenges, such as when herd immunity can be reached and how well infection is controlled.
3.
Can OR provide details about the bakery plant, and help explain the benefits of this plant to OR's business?
Currently, OR sources bakery from SMEs to sell in our Cafe Amazon stores. Therefore, having our own bakery plant and products in the stores will lead to product standardization, quality control, and cost control, which create an opportunity for OR to maintain our desired margins level in the long term. OR also aims to increase our ticket size through the non-drink portion from 9% to 13% in the medium term. We believe that the bakery plant will help drive us to reach our performance goal. Nonetheless, OR continues to focus on growing together with SMEs, and the bakery will supply 30%-40% of all products in Cafe Amazon.
4.
How does higher oil prices help OR? Isn't this a cost pass through business where you only make money from higher volumes?
The oil retail price is a cost-plus model. The higher oil price does not directly translate to the margins we receive. Our oil margin is in the range between THB 0.80-1.20/litre. We recommend investors include inventory gain / loss when deriving our margin because it's one of the factors we consider when we adjust the pump price.
5.
For inorganic growth, which food business niche would you find interesting? (Meat substitutes like beyond meat)
OR has many deals, both F&B and non F&B businesses, which are under discussion. We are open to exploring all opportunities related to the mobility and lifestyle ecosystems.
6.
Is there any chance for us to acquire small electric vehicle battery technology to speed up our EV BUSINESS?
Currently, the adoption of EVs is still low. According to the Electric Vehicle Associate of Thailand, the number of battery EVs and Hybrid EV/Plug-in Hybrid EV account for less than 2% of the total registered passenger cars in Thailand. We closely monitor the growth of EV technology and believe that we are well-prepared to meet future demand. We also look for partnerships for the EV charging technology to strengthen our mobility platform. We also developed mobile application for our EV charging station, which provides convenience for our customers in locating our EV stations while allowing us to study the behavior of EV users.
7.
How has OR been following the trend for new S-Curve businesses?
OR's investment strategy includes investing in businesses relating to and/or meeting the needs of Mobility and Lifestyle to build on our current business and investing in businesses with an emphasis on technology. Investing in Flash Group that operates a logistics and parcel delivery business, is one example of a new S-curve business that helps increase traffic at our PTT stations while also creates synergy in other aspects with OR. In addition, the investment in Care for Car and Orbit Digital are investments for the development of various platform applications to expand our current business.
8.
Can you describe how OR manages its PTT stations to embody the concept of one-stop-service, and how will this help increase revenue in the long term, and what will the proportion of increase look like?
We offer a mix of products & services that aims at meeting the needs of consumers. Ensuring they can enjoy the non-oil services available at our stations while refueling and charging their vehicles at the same time. As for the outlook on long-term revenue increase, our current revenue for the space rental business comes in the form of GP sharing.
9.
Is there enough coffee beans as OR expands hundreds of Cafe Amazon outlets each year?
OR source 100% of our coffee beans locally and believes that from the amount of coffee beans produced in the country per year compared to the coffee demand from Cafe Amazon outlets, we will be able to support our current and future Cafe Amazon outlets in the medium term, which is 3-5 years into the future.
10.
Please provide an update on your use of proceeds from the IPO and OR's plan for M&A. Are there any progress and whether there will be any deal announcements this year?
OR has set up a 5-year CAPEX plan of 74,600 million THB with the following breakdown: 34.6% oil business, 28.6% non-oil business, 15% foreign business, and 15% other business (new S-Curve) 15%. OR will be focusing on the non-oil business segment, which provides high margins.
If OR can invest according to this 5-year CAPEX plan, the proportion of OR's EBITDA contribution from each business segment will change to the following: Oil business at approximately 50 - 52%, Non-oil business at about 30 - 33%, International business at about 13-15% and other business (New S-Curve) at roughly 5%.
For this year's M&A deals and investment plan, we're currently still under discussion and cannot disclose such information.
11.
What are management's plans for domestic and international JVs in the retail business?
For domestic JVs in the non-oil business, we have discussions and plans to invest mainly in F&B. For international JVs, there are both F&B and Non-F&B.