As a flagship of PTT Group, PTT Oil and Retail Business Public Company Limited (OR) intends to shape growth opportunities together with people and the planet in parallel with our performance. With our vision of
Empowering all toward inclusive growth
We aim to leverage strength in our physical platform and digital platform, including marketing skills and professional management, along with customers' and suppliers' trust in OR's business to deliver growth opportunities to all entrepreneurs and grow along with OR, creating inclusive growth. To achieve these goals, we have four missions encompassing four business segments driving us: strengthen energy solutions for seamless mobility, strive to be a one-stop solution for all lifestyles, scale our portfolio for the global market and solve societal problems through OR Innovation.
Seamless Mobility
OR is the leading retailer of petroleum products in Thailand and aims for PTT Stations to be a Physical Platform for business expansion related to Mobility and Lifestyle. Currently, there are Stations equipped with EV chargers under the EV Station PluZ Brand, with plans to expand its network to cover major routes nationwide. Additionally, in response to demand for clean energy, OR has introduced solar rooftops to PTT Stations, which help reduce costs of investments in infrastructure and cut carbon dioxide emissions, thus contributing to the advancement towards a low-carbon society in the future.
Update as of June 2023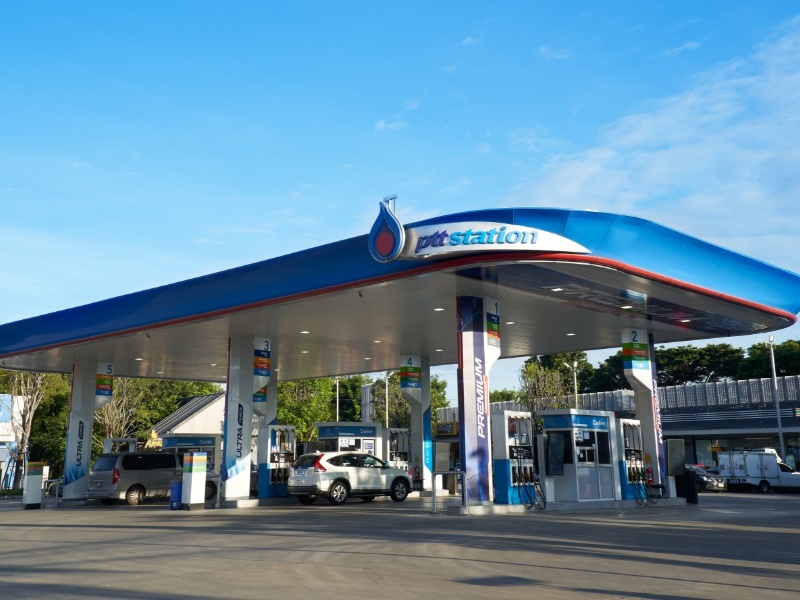 Stations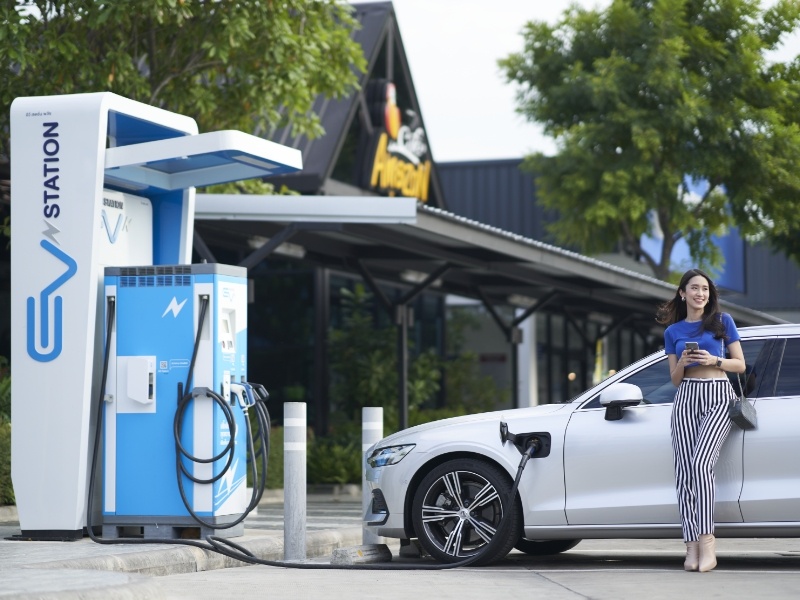 Locations
1100 DC connectors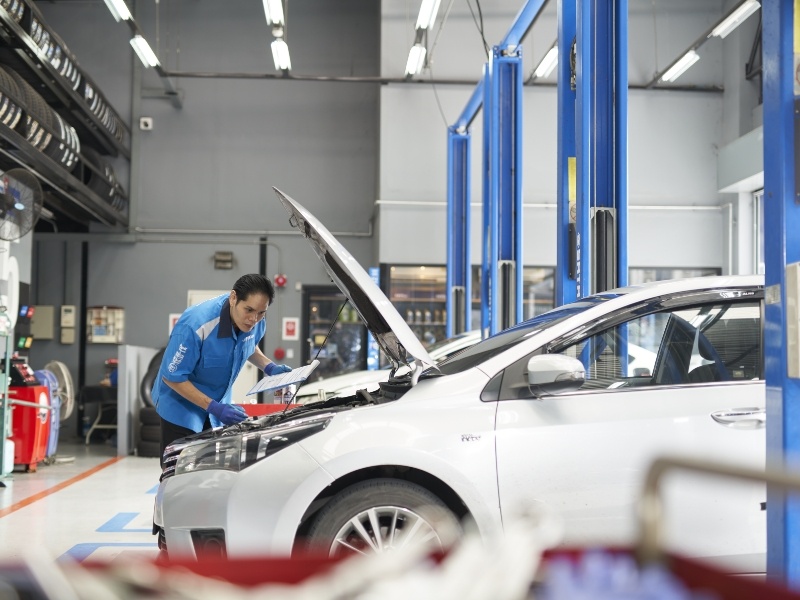 Outlets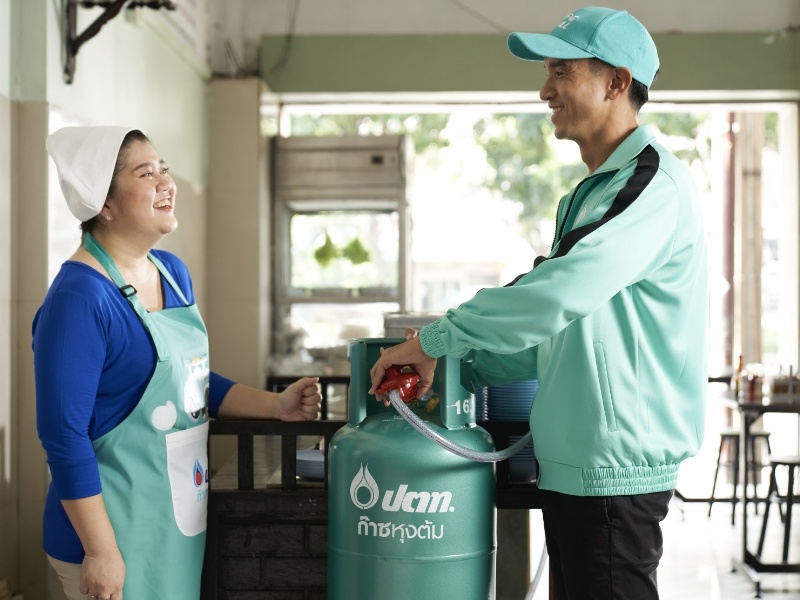 Stations
As for the commercial marketing business group, OR not only sells petroleum products and other products, but it is also a national retail leader for commercial sales of aviation fuels, fuel for marine vessels and industrial users and LPG. OR offers diverse products to customers in the commercial market who have been loyal to OR products and services for a long time, along with providing advice on product that are suitable for each user, to further develop new products and to be an Energy Solution Provider. It also operates a full range of lubricant businesses under the PTT Lubricants trademark, selling lubricants for gasoline and diesel engines, motorcycles, pickup and trucks, marine and fishery together with agricultural and industrial machinery and processes oil. OR also operates FIT Auto which provide scheduled maintenance service, spare part changing and fluid replacements using PTT lubricants. In addition, OR has installed solar rooftops outside PTT Stations to form new businesses with commercial market customers by selling equipment, installation, maintenance, and sale of electricity to ease problems and lower electricity costs for entrepreneurs.
In addition, OR's business is supported by its extensive network of petroleum product depots, LPG depots, aviation fuel depots, and depots for other products. All these facilities are connected to a comprehensive storage and distribution network, enabling supply chain optimization. As a result, OR's customers and consumers can be confident that OR can cater to everyone's needs thoroughly, easily, and fully as well as to support the business operations of integrated energy with seamless mobility.
All Lifestyles
All Lifestyles OR is committed to catering to all lifestyles of consumers by growing its business scope to become a part of everyone's lifestyles,embracing the F&B ecosystem and the one-stop solution ecosystem to match trends of consumers' dynamic behavior.
Update as of June 2023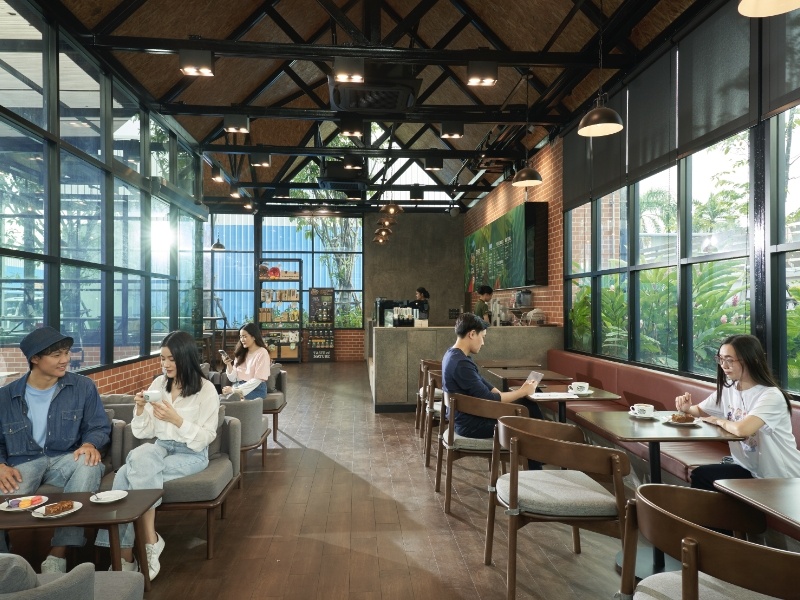 Outlets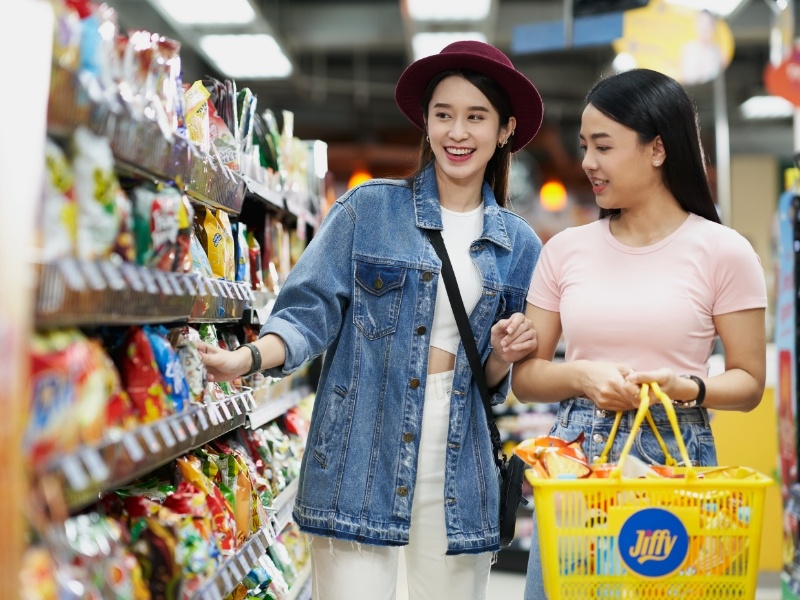 Outlets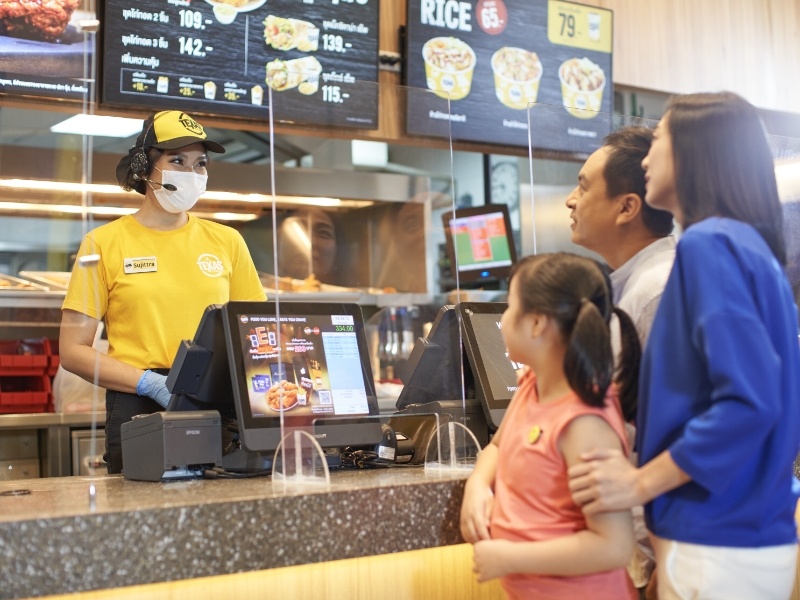 Outlets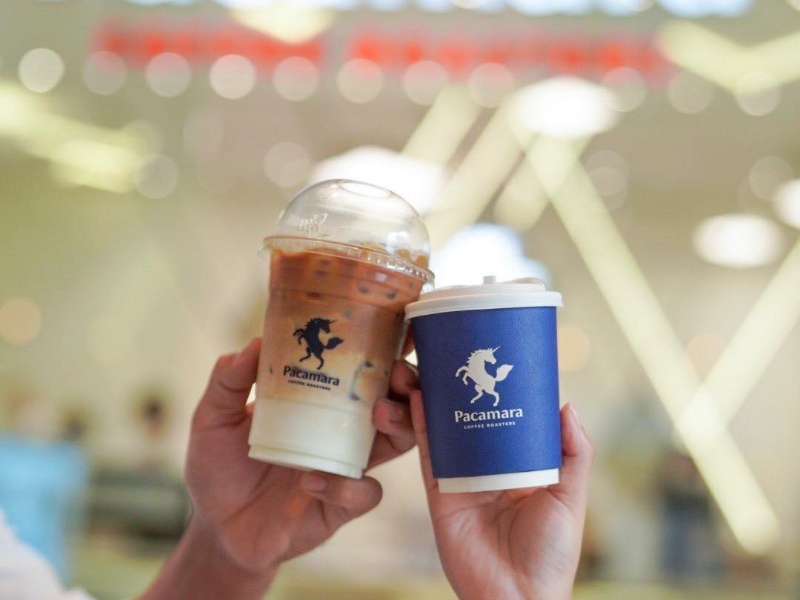 Outlets
1. F&B ecosystem
Café Amazon, a world-class coffee brand: Café Amazon engages in an integrated coffee business strictly under value-creation and growth in parallel with communities, society, and the environment across the business chain ranging from promotion of Thai farmers to grow exquisite coffee beans, selection of quality beans through a roasting process under a well-kept formula at the brand's large-scale, advanced coffee roasting plant to deliver to Café Amazon outlets across the country.
Café Amazon brand's clear marketing stance: We strive for Green Oasis (a resting place to refill life's energy for every consumer's journey), made up of four key factors. First, the outlet's lush ambience. Second, a Thai coffee brand that truly meets the taste buds of Thai consumers. Third, location and access, located inside and outside PTT Stations with a nationwide network, and now our growth has expanded into department stores, community malls, government agencies, organizations, educational institutions, underground (MRT stations and BTS stations), as well as community locations. Fourth, value for money, affordable and accessible to all consumers.
To meet consumers' new lifestyles of spending more time at home and their needs of quick, convenient access to products and services, Café Amazon has introduced variety of drinks, including tea, chocolate, fruit juice, drip coffee, and cold-brew coffee-all carefully chosen-along with delicious snacks and bakery menus. To this end, we have grown distribution channels through online channels, department stores, supermarkets (modern trade) and through Café Amazon's own mobile application, as well as delivery.
In 2021 ,OR launched a sizeable merchandise distribution center with deployed robot technology operating on 24,000 square meters and capable of providing merchandise service of about 22 million items a year. At the same time, OR launched dry mix factory (producing green tea, chocolate, among others) and its own bakery production with quality raw materials and specific recipes from Café Amazon's plants to constantly deliver quality products to customers. Finally, OR invested with business partners for inclusive growth, synergy, and optimization of business to create shared values across the supply chains.
Other F&B businesses: Besides engaging in quick service restaurants by getting license (master franchise) in Thailand for Texas Chicken and Pearly Tea (a brand owned by OR), this year OR continually invested in the shares of other food and drink businesses to grow its F&B portfolio to fulfill consumers' needs to cater to consumers' diverse needs for food and drinks. This year's investment consisted of:
Peaberry Thai Co., Ltd., which engages in an integrated coffee-related business, including a specialty coffee shop under the Pacamara Coffee Roasters brand
Pluk Phak Praw Rak Mae Co., Ltd., the health food shop under Ohkajhu brand
Imsub Global Cuisine Co., Ltd., a Japanese restaurant operator under Kouen Premium Buffet, Ono Sushi, Yoong Khao Hom, Moo Tua Hia, and Ta Cuisine brands
Kamu Kamu Co., Ltd., the seller of pearly tea and novel lifestyle drinks under Kamu Tea brand.
2. Other Retail Businesses
Convenience stores: OR operates under its own Jiffy brand and the 7-Eleven brand under a cooperative agreement between OR and CP All, with sales of F&B along with various goods for the convenience of PTT Stations' patrons.
Rental space management: PTT Stations represent a physical platform for growing businesses related to Mobility and Lifestyles. OR has designed them into hubs for fulfilling communities'happiness and growth (Living Community). Besides Café Amazon, Jiffy and 7-Eleven found at each station, we offer space leasing to 330 business partners' brands in assorted businesses, including food outlets, laundry shops, and parcel delivery while supporting community enterprises and small enterprises to put Thai Det, local iconic products, on sale at PTT Stations. Besides, we have allocated space outside PTT Stations to answer the needs of various groups of consumers.
Health and tourism businesses: Recognizing the potential of investing in health, wellness, and tourism businesses due to the COVID-19 pandemic, we have witnessed the value given to health care, prudence, and healthy practices. OR therefore has a plan to invest in these businesses, so that it may be part of the everyday life of all consumers of different age groups and genders.
Global Market
Overseas business growth represents a key tool for future growth. Therefore, OR continues to grow its businesses in high-potential areas in both population and population quality, economic outlook, and parity with Thailand (social and cultural). OR has developed a business expansion strategy for international investments, through our asset-light business model: This embraces OR's pursuit of new business opportunities in existing areas where OR already has business bases and local know how as well as new, high-potential areas. The aim is to grow together with business partners, communities, allies, and foreign entrepreneurs. Starting with the selection of brands that match the demand and popularity of a particular new market, after which OR will export high-quality products and start mobility and lifestyle businesses under its proprietary brands marketable in that country (such as PTT Station and Café Amazon) to enhance brand awareness. Once the brand is widely known with a secure customer base, OR will expand its network of PTT Stations and Café Amazon and/or retail product and service outlets in each market as appropriate. OR enters each market as an experienced leader of the industry from Thailand and introduces platforms from Thailand focused on sharing and expanding success to other countries in the region and globally. Recognizing the complexity of business operation in different countries, OR carefully studies the business model of each country and strategically tailors its business operation models to best fit each specific country, or what we call "localization."
Today, OR has a decade-old presence in key countries like the Philippines, Cambodia, Laos and new countries where OR has recently invested, including the People's Republic of China and Vietnam.
Update as of June 2023
OR Innovation
Update as of June 2023
To enhance technological and innovative capabilities In order to create business value
A private fund for investment in high-potential startups in Thailand & SEA. Current deals includes Pomelo, Protomate, Freshket, GoWabi, Carsome and Hangry
Invested in the startup fund in Thailand focusing on fintech, e-commerce and automotive segments
To enhance technological and innovative capabilities in order to create business value
To drive OR's business operations to achieve the goals set with total efficiency, support business operations that can respond to rapid technological developments and changing environment, and increasing inequality, OR continues to adjust our operating model in accordance with the vision, mission, and strategic direction. We do so by focusing on customers and consumers, advancing speed and increasing productivity and efficiency, and using digital technology to transform operations with a focus on data-driven business and by integrating links between business units and external partners. OR has applied technology and information systems to support business operations in four areas:
Strengthening digital infrastructure to ensure OR has a strong technology infrastructure.
Developing a digital platform to support offline to online (O2O) service by integrating business from online to offline, such as developing all-in-one applications that will be able to meet and facilitate all of the consumers' daily life needs pertaining to the areas of Mobility and Lifestyle businesses.
Using Digital Technology to support decision-making and business operations, such as using an analytic model in personal marketing (Personalized Marketing) and creating marketing campaigns that are more relevant to customers.
Integrating and using data as a base to create new businesses for OR.
Moreover, OR is also accelerating innovation by collaborating with potential partners in many businesses, such as investing in Flash Express, an e-commerce service provider to drive the transportation industry, a joint investment with "Bluebik" to establish ORBIT Digital Company Limited (ORBIT Digital) to accelerate business development related to digital technology, including a collaboration with 500 TukTuks to set up ORZON Ventures Fund to invest in early stage startups, which is not only an opportunity to create a New S-Curve for OR, but also a door of opportunity for startups to grow together with OR's business both domestically and internationally.